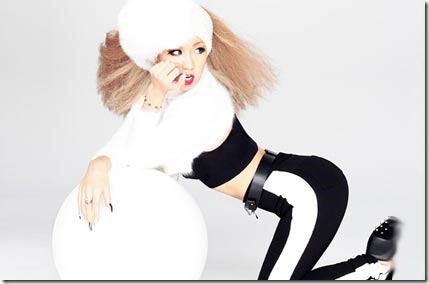 Koda Kumi has added more details for her new single Dreaming Now! – jacket covers, full track list, and bonus details all revealed. Her 56th single also gets a tie-in as the theme song for the World Grand Champions Cup Volleyball 2013 that starts November 12th on NTV. Single Dreaming Now! comes on two main editions and two fan club editions that all release on November 13th 2013. Read on for more details and audio preview..
Koda Kumi most recently released her 55th single "Summer Trip" that renewed her summer themed singles (more details). The single hit stores July 31st 2013 and fans pushed it to #6 on the weekly Oricon charts.
Koda Kumi is also getting ready for her live house events for fan-club members. She last held these types of lives 5 years ago which will hit 9 smaller venues with 19 total events current scheduled,
– October 27th 3:00pm & 6:30pm Club Junk Box, Nagano
– October 29th, 30th, 31st 6:00pm Zepp DiverCity, Tokyo
– November 2nd 6:30pm Zepp Sapporo
– November 4th 2:45pm & 6:30pm Rensa, Sendai
– November 6th & 7th 6:00pm Zepp, Nagoya
– November 9th 2:45pm & 6:30pm BLUE LIVE, Hiroshima
– November 16th 3:00pm & 6:30pm SOUND SHOWER ark, Shizuoka
– November 21st & 22nd 5:30pm Zepp, Fukuoka
– November 26th, 27th, 28th 6:00pm Zepp, Namba
More details at Koda Kumi's official website and fan club (links below).
Koda Kumi's 56th single Dreaming Now! comes on four editions,
– Limited with DVD that includes music video and making-of footage for title track and bonus live song.
– Regular CD-only.
– Fan club Limited with DVD (contents similar to Limited ed.). Includes bonus Koda Kumi x EMODA fashion tote bag.
– Fan club Regular CD-only (contents similar to Regular ed.). Includes bonus Koda Kumi x EMODA fashion tote bag.
Audio preview for Dreaming Now! below.
Koda Kumi – Dreaming Now! – release date November 13th 2013
Limited [CD+DVD] (¥1890) 


Regular [CD] (¥1260) 


[CD]
1. Dreaming Now!
(preview)
2. XXX
3. Ainota (Live @ a-nation stadium fes 2013)
[DVD]
1. Dreaming Now! (music video)
2. IS THIS TRAP? (live)
3. Dreaming Now! (off shoot)
[CD]
1. Dreaming Now!
2. XXX
3. Ainota (Live @ a-nation stadium fes 2013)
Fan club Limited [CD+DVD+Goods] (¥3900)

Fan club Regular [CD+Goods] (¥3270)

[CD]
1. Dreaming Now!
2. XXX
3. Ainota (Live @ a-nation stadium fes 2013)
[DVD]
1. Dreaming Now! (music video)
2. IS THIS TRAP? (live)
3. Dreaming Now! (off shoot)
[CD]
1. Dreaming Now!
2. XXX
3. Ainota (Live @ a-nation stadium fes 2013)