December 25, 2013
-
toyNN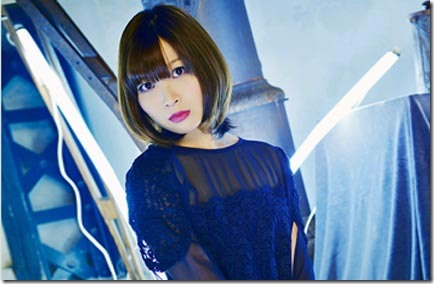 May'n updated the release details for her new album NEW WORLD – jacket covers and more details revealed. Its her 4th original album and contains six previously released singles and new songs, including Lose My Illusions, for 12 total tracks. Album NEW WORLD's three editions hit stores January 29th 2014 – updated details and more follow.
May'n is also getting ready to release her 9th single Kyo ni Koiiro (今日に恋色) with tie-up as the opening theme for upcoming anime Inari KonKon Koi Iroha. Single Kyo ni Koiiro releases simultaneously with her new album on January 29th 2014 – more details and preview music video here.
For upcoming live events May'n has announced a major live tour May'n Road to 10th Anniversary Japan & World Tour 2014-2015 'dots and lines'. The tour is planned for 26+ performances across Japan in 2014 beginning February 23rd at Club CITTA Kanaga. Another set of performances in 2015 will lead up to her 10th anniversary. More details at special website (link below).
Many of May'n's singles have tie-ups as theme songs for anime, games, and dramas. The new album includes previously released songs,
ViViD (2013.07.24, OP anime Blood Lad) 
Run Real Run (2013.05.08, theme drama Real Onigokko THE ORIGIN) 
Mr. Super Future Star (2012.11.22, theme PS3 E.X. TROOPERS) 
ROCK YOUR BEATS (May'n World Tour 2012 ROCK YOUR BEATS documentary theme song, lyrics by May'n) 
Aozora (2012.10.04, ED anime BTOOM) 
Chase the world (2012.05.08, OP anime ACCEL WORLD)
May'n will hold a free mini-live and talk event for the release of her new single and album scheduled quickly for December 28th 1:00pm Kawasaki Plaza Grand Stage. More details at her official website (link below).
Album NEW WORLD comes on three editions,
– Limited with DVD that includes music videos for new song Lose My Illusions and 4 previously released songs.
– Limited with bonus CD containing live performance October 29th 2013 at Tokyo International Forum Hall May'n Hall Tour 2013 "LIVE! CAVE! DIVE!" (5 songs).
– Regular CD-only.
Preview music videos for singles ViViD, Run Real Run, Mr. Super Future Star, and Chase the World follow below the release details.
May'n – NEW WORLD – release date January 29th 2014
Limited [CD+DVD] (¥3400)

Limited [CD+CD] (¥3200)

[CD]
1. Lose My Illusions
2. Chase the World
3. Mr. Super Future Star
4. Watashi no Shirushi
5. Ketsui no Asa
6. Ano hi no Uta
7. IN THE AIR
8. Run Real Run
9. Aozora 
10. ViViD
11. MOONWALKER
12. ROCK YOUR BEATS
[DVD]
1. Lose My Illusions (music video)
2. Chase the World (music video)
3. Mr. Super Future Star (music video) 
4. Run Real Run (music video)
5. ViViD (music video)
[CD]
1. Lose My Illusions
2. Chase the World
3. Mr. Super Future Star
4. Watashi no Shirushi
5. Ketsui no Asa
6. Ano hi no Uta
7. IN THE AIR
8. Run Real Run
9. Aozora 
10. ViViD
11. MOONWALKER
12. ROCK YOUR BEATS
[CD] 
May'n Hall Tour 2013 LIVE! CAVE! DIVE!
1. DOLCE
2. My Lovely Thing
3. Giant Step
4. Number One!
5. Brain Driver
Regular [CD] (¥2900)

[CD]
1. Lose My Illusions
2. Chase the World
3. Mr. Super Future Star
4. Watashi no Shirushi
5. Ketsui no Asa
6. Ano hi no Uta
7. IN THE AIR
8. Run Real Run
9. Aozora 
10. ViViD
11. MOONWALKER
12. ROCK YOUR BEATS