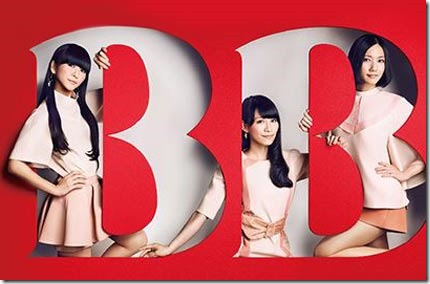 Perfume has announced new original album "LEVEL 3" planned to include their 4 singles "Spring of Life", "Spending all my time", Mirai no Museum", "Magic of Love", new song "Party Maker", and more. New song "Party Maker" and Perfume are featured in CM for Eisai Chocola BB Sparkling line-up of health drinks. Album "LEVEL 3" comes on two editions that hit stores October 2nd 2013 – read for more details and Chocola BB Sparkling TVCM plus making-of video…
Its been nearly two years since Perfume released original album "JPN" (2011.11.30) which was their final original release with record label that first signed them in 2005, Tokuma Communications. They moved over to Universal Music in 2012 with a new effort to bring Perfume to fans around the world. In addition to releasing 4 singles since the move they have held 2 mini-tours outside of Japan. The first hit four venues in Asia-Pacific in fall 2012 (more details) and they recently completed a mini-tour in Europe at three club venues (July 3rd 2013 Cologne Germany, July 5th London UK, July 7th Paris France).
Perfume most recently released their 18th single "Magic of Love" (2013.05.22) with tie-in as theme for CM KANRO "Pure Gummy" candy.
Perfume's upcoming live schedule includes two upcoming summer festivals this weekend,
– August 9th 9:00pm SonicMania 2013 Makuhari Messe, Chiba
– August 11th 10:00am Summer Sonic 2013 Maishima Special site Osaka
Also just announced Perfume will hold special events at two major domes to celebrate the new album and years end,
– December 7th 3:00pm Kyocera Dome Osaka
– December 8th 2:00pm Kyocera Dome Osaka
– December 24th 4:00pm Tokyo Dome
– December 25th 4:00pm Tokyo Dome
More information on seeing Perfume live available at their official website linked below.
Perfume's new album "LEVEL 3" comes on 2 editions,
– Limited with DVD (contents undecided). Includes special 1 of 3 colored cases with similar jacket covers.
– Regular CD-only.
Watch the Chocola BB Sparkling TVCM and making-of videos that feature new song "Party Maker" below the release details
Perfume "LEVEL 3" – release date October 2nd 2013
Limited [CD+DVD] (¥3900)


Regular [CD] (¥3060)


[CD]
1. Spring of Life (15th single)
2. Spending all my time (16th single)
3. Mirai no Museum (17th single)
4. Magic of Love (18th single)
5. Party Maker (new)
6. – ? undecided
[DVD]
contents undecided
[CD]
1. Spring of Life
2. Spending all my time
3. Mirai no Museum
4. Magic of Love
5. Party Maker (new)
6. – ? undecided
Perfume Official World Fan Club (PTA)
Perfume WORLD TOUR 2nd special website