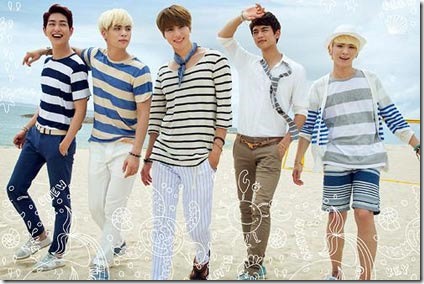 SHINee revealed the details for their 8th Japanese single "BOYS MEET U" – jacket covers, full track list, teaser music video, and more announced. The single closely follows their 2nd Japanese album of the same title "Boys Meet U". Single "BOYS MEET U" comes on three editions which release August 21st 2013 – all the details and teaser music video follow.
SHINee recently released their 2nd Japanese album "Boys Meet U" that includes 4 singles "Sherlock", "Dazzling Girl", "1000 Nen, Zutto Soba ni Ite…", "Fire", new songs, and more for 12 total tracks. Album "Boys Meet U" hit stores June 26th 2013 (more details).
Their new single's Limited editions DVD include music videos for one of the album's new songs "Breaking News". Also included as a coupling track on the new single is the Japanese version of hit Korean song "Dream Girl" originally released in Korea on their "Chapter 1. Dream Girl – The Misconceptions of You" album (2013.02.19).
Upcoming lives – SHINee is currently in their re-scheduling Japanese arena tour, with added title JAPAN ARENA TOUR SHINee WORLD 2013 ~ Boys Meet U~ now runs from June through December (more information at their official website linked below),
– June 28th, 29th, 30th Saitama Super Arena
– July 6th & 7th Osaka Castle Hall
– July 13th Toki Messe, Niigata
– August 3rd Makomanai Sekisui Heim Ice Arena Hokkaido Sapporo
– August 17th & 18th Kobe World Memorial Hall
– September 11th Hiroshima Green Arena
– November 25th Marine Messe Fukuoka
– December 10th & 11th NGK Insulators Hall in Nagoya
The group will also make appearances during the big summer festivals,
– August 12th 2013 United States of Odaiba 2013 ~ Mezamashi Live ~ Fuji TV Head Office and surrounding areas.
– September 1st 2013 a-nation stadium fes. 2013 Tokyo Ajinomoto Stadium along with other artists (Koda Kumi, Ayumi Hamasaki, AAA, Sonar Pocket, and more..).
New Japanese single "BOYS MEET U" comes on three editions,
– Limited with DVD that includes music videos and making-of documentary footage for the new single. Deluxe packaging with bonus 28-page photo booklet, 3 summer themed cards and envelopes.
– Regular with DVD that includes music videos and making-of footage (differs from Limited Ed.). Adds bonus 16-page photo booklet and trading card (1 of 6).
– Regular CD-only. First Press version adds trading card (1 of 6).
Watch the teaser music video for "Boys Meet U" below the release details..
SHINee "BOYS MEET U" – release date August 21st 2013
Limited [CD+DVD+Photo book] (¥2500)


Regular [CD+DVD+Photo book] (¥1980)


[CD]
1. Boys Meet U
2. Dream Girl (Japanese ver.)
3. Sunny Day Hero
[DVD]
1. Boys Meet U (music video)
2. Breaking News (music video)
3. Boys Meet U jacket photo shoot
4. Boys Meet U (making-of footage)
[CD]
1. Boys Meet U
2. Dream Girl (Japanese ver.)
3. Sunny Day Hero
[DVD]
1. Boys Meet U (music video)
2. Breaking News (dance ver.)
3. Breaking News (making-of footage)
Regular [CD] (¥1260)


 
[CD]
1. Boys Meet U
2. Dream Girl (Japanese ver.)
3. Sunny Day Hero
4. Boys Meet U (off vocal)
5. Dream Girl (off vocal)
6. Sunny Day Hero (off vocal)