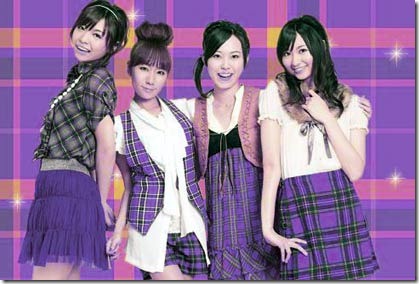 Seiyuu group Sphere has announced a music video collection "Music Clips 2009 – 2012" on region free Blu-ray. The collection is planned to include all their music videos from debut single "Future Stream" to 11th single "Pride on Everyday". Plus a fan voted new music video for song "Kimi ga taiyo" that was part of 2nd album "Spring is here". Sphere's "Music Clips 2009 – 2012" comes on one Blu-ray edition and is scheduled to be in stores February 27th 2013 – read on for more details…
~ updated details ~
Most recently Sphere released their 11th single "Pride on Everyday" on November 7th 2012 (details). The single's title track is featured as the ending theme song for third season of anime Bakuman.
Sphere consists of popular voice actresses (seiyuu) Aki Toyosaki, Ayahi Takagaki, Haruka Tomatsu, and Minako Kotobuki. In addition to performing together as Sphere they are also busy with solo releases. Member Haruka Tomatsu released 9th single "Yume no Sekai" on July 25th 2012 (details) which was featured as the first ending theme for popular anime Sword Art Online in which she also provides the voice for main heroine Asuna. Plus Tomatsu released 10th single "Q&A Recital!" on October 17th 2012 which is featured opening theme for another popular anime My Little Monster (Tonari no Kaibutsu-kun) and she also voices the lead character Mizutani Shizuku. Member Aki Toyosaki came out with her 7th solo single "Orion to Supankoru" on December 19th 2012 (details).
Sphere released their 3rd album "Third Planet" on July 11th. The new album includes singles – "Hazy" featured as ending theme for anime Hanasaku Iroha, "LET ME DO!!" used as the theme for the Sphere variety show, "High Powered" features as opening theme for anime Ika Musume season 2, and their most recent double-A single "Non stop road / Ashita e no Kaerimichi" (release details) that features the opening and ending theme for anime Natsuiro Kiseki.
Sphere will hold their 2nd solo concert events this spring "Music Rainbow 02" featuring each member. The events will be held March 30th & 31st 2013 at Nakano Sun Plaza,
– March 30th 3:00pm Aki Toyosaki
– March 30th 7:00pm Ayahi Takagaki
– March 31st 3:00pm Minako Kotobuki
– March 31st 7:00pm Haruka Tomatsu
Most of the details are out for the "Music Clips 2009 – 2012" release except for the cover jacket which will be announced.
Sphere "Music Clips 2009 – 2012" on Blu-ray – release date February 27th 2013
Limited [BD] (¥7000)


 
[BD]
1. Future Stream
2. Super Noisy Nova
3. Kaze wo atsumete
4. A.T.M.O.S.P.H.E.R.E (1st album)
5. Realove:Realife
6. Now loading…SKY!!
7. Moon Signal
8. Spring is here (2nd album)
9. Hazy
10. Let Me Do!!
11. High Powered
12. Non stop Road
13. Planet Freedom (3rd album)
14. Pride on Everyday
15. Kimi ga taiyo (new music video)