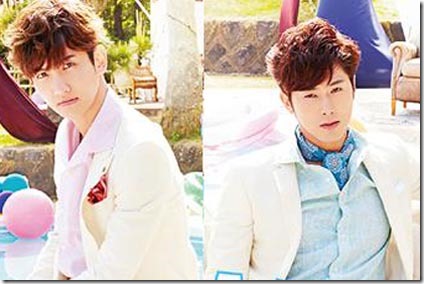 Tohoshinki (TVXQ) is getting ready to release their new Japanese single "OCEAN" and revealed a short version PV for the title track. The single is their second 2013 and is planned for two editions. New single "OCEAN" is scheduled to hit stores June 12th 2013 – read on for more details.
Tohoshinki most recently released #1 charting Japanese album "TIME" which hit stores March 6th 2013. The album includes previously released singles and more plus new song "In Our Time" with tie-in as the theme for NTV series "Sukkiri!!". Previously they released single "Catch Me – If you wanna" on January 16th 2013 and fans gave the popular Korean duo another #1 charting single.
The very popular group, currently a duo of Yunho and Changmin, are in the middle of their major dome stadium tour in Japan "Tohoshinki LIVE TOUR 2013 ~ TIME ~" with 16 planned performances at 6 major dome venues in Sapporo, Tokyo, Nagoya, Osaka, and Fukuoka plus 2 final performances now planned for outdoor venue, the 72,000+ seat International "Nissan" Stadium in Yokohama,
– April 27th, 28th, 29th at Saitama Super Arena
– May 5th Sapporo Dome
– May 10th, 11th, 12th Nagoya Dome
– May 25th, 26th Yahoo Auctions Dome, Fukuoka
– June 5th, 6th, 8th, 9th Kyocera Dome, Osaka
– June 15th, 16th, 17th Tokyo Dome
– August 17th, 18th  Nissan Stadium, Yokohama
More details at special tour website (link at bottom).
The new single includes coupling track "Wedding Dress" with a special promotion launched. Fans can upload photos with themes of marriage and happiness and a compilation will be used in a music video for the coupling track and with other promotional materials for the new single. Link to another special website below.
Tohoshinki's new Japanese single "OCEAN" comes on two editions,
– Limited with DVD that includes music video for the title track and making-of documentary plus a cover-sized card (1 of 6).
– Regular CD-only with bonus title track remix version and making-of jacket cover photo shoot in CD-Extra format (extra tracks readable by computer CD/DVD drive). First Press version adds 12-page booklet and cover-sized card (1 of 6).
Watch the short version PV video for "OCEAN" after the release details.
Tohoshinki (TVXQ) – "OCEAN" – release date June 12th 2013
Limited [CD+DVD] (¥1890)


Regular [CD] (¥1050)


[CD] (subject to change)
1. OCEAN
2. Wedding Dress
3. OCEAN (off vocal)
4. Wedding Dress
[DVD]
1. OCEAN (music video)
2. OCEAN (off shoot)
[CD] (subject to change)
1. OCEAN
2. Wedding Dress
3. OCEAN -Rising Starr remix-
4. OCEAN (off vocal)
5. Wedding Dress
[CD-Extra]
1. Jacket cover photo shoot
Tohoshinki "TIME" Live Tour 2013 website
Wedding Dress fan photos special website