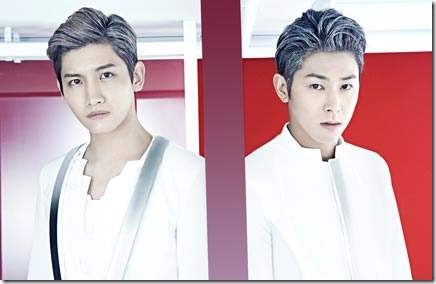 Tohoshinki (TVXQ) is getting ready to release their new Japanese album "TIME" – and have created a special website with 14 days of featuring each track on the album, a count down timer, plus more. The first features revealed are a documentary video "Do You Know Tohoshinki?", CM message spot, and the first audio preview of track "Fated". Album "TIME" hits stores March 6th 2013 – release details and promo videos follow.
The album includes new song "In Our Time" with tie-in as the theme for NTV series "Sukkiri!!" during February. The preview music video for "In Our Time" was earlier revealed (included below).
Tohoshinki (TVXQ) recently released Japanese single "Catch Me – If you wanna" on January 16th 2013 and gave the popular Korean duo another #1 charting single. The new single includes their hit Korean song remixed with Japanese lyrics and a new original Japanese ballad song "I Know" which has a tie-up as the ending theme for Fuji TV series "Catherine III". Both songs are included on the new album.
Tohoshinki will start a major dome stadium tour for Spring 2013 in Japan "Tohoshinki LIVE TOUR 2013 ~ TIME ~" in support of the new album. More performances have been announced and now there are 16 planned performances at 6 major dome venues in Sapporo, Tokyo, Nagoya, Osaka, and Fukuoka. The first stop is April 27th at Saitama Super Arena and finale with 3 performances at Tokyo Dome June 15th, 16th and 17th. Fanclub members get priority for tickets and information – more details at the "Bigeast" website (link at bottom).
Album "TIME" is available on three editions,
– Limited A with DVD that includes 12 music videos. First Press version adds a jacket size card (1 of 6).
– Limited B with DVD that includes 3 live performances from the a-nation 2012 festival, 2 live performances from the 2011 Tokyo International Forum event, making-of footage for 2 music videos and documentary footage for the album. First Press version adds a jacket size card (1 of 6).
– Regular CD-only with 2 bonus tracks which include their ballad single "Winter Rose". First Press version adds a jacket size card (1 of 6).
Enjoy the PV video for new song "In Our Time", documentary short video "Do You Know Tohoshinki?", and the newest CM spot (60sec) all after the release details.
Tohoshinki (TVXQ) "TIME" – release date March 6th 2013
Limited A [CD+DVD] (¥5400)


Limited B [CD+DVD] (¥4200)


[CD]
1. Fated
2. CATCH ME – If you wanna –
3. Ai takute ai takute tamaranai
4. One More Thing
5. STILL
6. I Know
7. Y3K
8. BLINK
9. Humaniods
10. ANDROID
11. One and Only One
12. In Our Time
[DVD]
1. Winter Rose (music video)
2. STILL (music video)
3. ADNROID (music video)
4. CATCH ME – If you wanna – (music video)
5. I Know (music video)
6. Humanoids (music video)
7. In Our Time (music video)
8. Shiawase iro no hana (music video)
9. ANDROID (dance ver.)
10. CATCH ME – If you wanna – (dance ver.)
11. Humanoids (dance ver.)
12. CATCH ME – If you wanna – (singing only ver.)
[CD]
1. Fated
2. CATCH ME – If you wanna –
3. Ai takute ai takute tamaranai
4. One More Thing
5. STILL
6. I Know
7. Y3K
8. BLINK
9. Humaniods
10. ANDROID
11. One and Only One
12. In Our Time
[DVD]
1. MAXIMUM (a-nation 2012)
2. Why? (Keep your head down) (a-nation 2012)
3. Somebody to Love (a-nation 2012)
4. I Don't Know (Nov 2011 Tokyo International Forum)
5. B.U.T (BE-AU-TY) (Nov 2011 Tokyo International Forum)
6. I Know (off shoot)
7. Humanoids (Off shoot)
8. Album "TIME" Documentary
Regular [CD] (¥2940)


[CD]
1. Fated
2. CATCH ME – If you wanna –
3. Ai takute ai takute tamaranai
4. One More Thing
5. STILL
6. I Know
7. Y3K
8. BLINK
9. Humaniods
10. ANDROID
11. One and Only One
12. In Our Time
13. Rat Tat Tat
14. Winter Rose
Tohoshinki "Bigeast" Fanclub Official website
Tohoshinki Official website (Japanese)