September 29, 2013
-
toyNN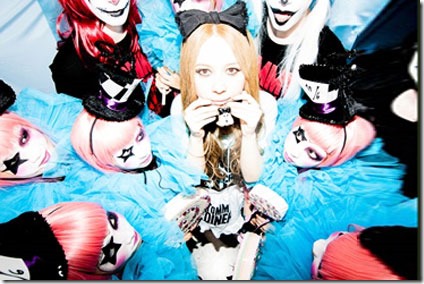 Tommy heavenly6 (Tomoko Kawase) confirmed the release of new album TOMMY ♡ ICE CREAM HEAVEN ♡ FOREVER and revealed more details. The album contains new songs including "CAN YOU HEAR ME?" and "Ruby Eyes" featured as the theme song for Fuji TV drama Kiyoko Ranman. The 3rd part of her 15th anniversary, album TOMMY ♡ ICE CREAM HEAVEN ♡ FOREVER now hits stores November 27th 2013 – more details follow…
~ jacket covers, PV revealed ~
Previously Tomoko Kawase via Twitter (2013.09.18) stated the album, originally scheduled for October 23rd 2013, would be delayed. She revealed the new songs weren't sounding quite like the dark, rock "heavenly6" persona and realized it was difficult switching from her more pop "february6" persona to the more rock "heavenly6". She apologized to fans who were looking forward to her heavenly6 work and didn't want them to loose trust. Ultimately it was decided to delay the release.
Announcing the new release date the PR states "In a world wrapped in darkness and cold, expect an album of charm full of Gothic & Darkness Tommy heavenly6".
Tomoko Kawase as her other alter-ego Tommy february6 recently released album "TOMMY CANDY SHOP ♥ SUGAR ♥ ME" on June 12th 2013 (more details). The release is part of her 15th anniversary since her debut with the brilliant green and fans push it to #9 on the weekly Oricon charts. Tomoko Kawase is the lead vocalist/composer for band the brilliant green (1998 – present) in addition she also leads two solo projects as alter-egos Tommy february6 (pop) and Tommy heavenly6 (rock).
Her 6th album as Tommy heavenly6 "TOMMY ♡ ICE CREAM HEAVEN ♡ FOREVER" comes on two editions (details subject to change).
– Limited with DVD that includes music videos and more. Special packaging and bonus sticker planned.
– Regular CD-only. Bonus sticker planned.
Full track list and jacket covers will be updated when announced.
Tommy heavenly6  TOMMY ♡ ICE CREAM HEAVEN ♡ FOREVER  release date November 27th 2013
Limited [CD+DVD] (¥4300)


Regular [CD] (¥3150)


[CD]
1. Ruby Eyes
2. CAN YOU HEAR ME? 
3. – ? undecided
[DVD]
1. "Intro" CUPCAKE CASTLE (SUGAR DARK STORM)
2. Ruby Eyes 
3. "Intro" GELATO MOUNTAINS FIGHT
4. "Intro" CUPCATE CASTLE (SUGAR SNOW)
5. CAN YOU HEAR ME?
[CD]
1. Ruby Eyes
2. CAN YOU HEAR ME?
3. – ? undecided
Tommy heavenly6 & Tommy february6 Official website
Tommy Army (twitter)
Kiyoko Ranman official website (Tokai TV)