December 12, 2014
-
toyNN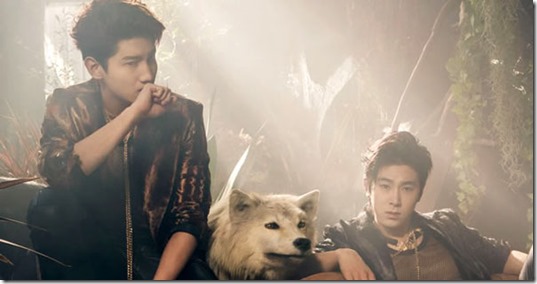 Tohoshinki (東方神起) is getting ready to release Japanese album WITH on December 17th 2014. New album song Spinning gets multiple NTV show tie-ups as ending themes during December – Music Dragon, Bikkurakoita-bako, Soreyuke! Game Panther!, plus Music BB. Additionally new songs Believe in U with tie-up as ending theme for TBS TV show Hiruobi! in December and Chandelier has tie-up as ending theme for TBS TV show Arita no Yarashii. Album WITH comes on three editions plus a fan club version – all the details and PVs follow.
The new album includes their most recently single Time Works Wonders that just released on November 5th 2014. The title song is featured as the theme song for NTV show Sukkiri!! (October) and fans showed great support pushing the single to #2 on the weekly Oricon charts.
Popular Korean duo Tohoshinki (TVXQ, DBSK) released chart topping Japanese album TREE less than a year ago on March 5th 2014.
New album WITH comes on three editions plus the Bigeast fanclub version. First Press versions include a jacket size card (1 of 6). Regular edition adds two bonus CD tracks. Most stores include addition bonus with either edition that varies by store – most offer postcard, Neowing/CDJapan and WonderGOO offer b2-size poster (sample). Check your store for bonus.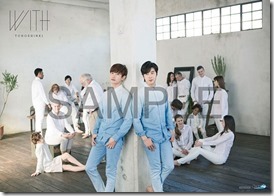 Additional original picture bonus when purchasing all three editions of the album.
Album promo video, special extended interview video, and new song Spinning special MV making-of footage all after the release details. (note: previously posted PVs for Spinning and Chandelier were removed by avex)
Tohoshinki – WITH – release date December 17th 2014
Limited A [CD+DVD] (¥5200)


Limited B [CD+DVD] (¥4200)


[CD]
1. Refuse to lose ~ Intro ~
2. Spinning
3. Believe In U
4. SuriSuri (Spellbound)
5. Time Works Wonders
6. DIRT
7. I just can't quit myself
8. Chandelier
9. Baby, don't cry
10. Answer
11. Calling
12. Sweat
13. Special One
14. With Love
[DVD]
1. Sweat (music video)
2. Time Works Wonders (music video)
3. Spinning (music video)
4. Chandelier (music video)
5. Sweat (dance version music video)
6. Time Works Wonders (sand art ver. music video)
7. a-nation 2014 stadium fes. live performances
– SuriSuri (Spellbound)
– SCREAM
– I love you
– Something
– Sweat
– Summer Dream
– OCEAN
[CD]
1. Refuse to lose ~ Intro ~
2. Spinning
3. Believe In U
4. SuriSuri (Spellbound)
5. Time Works Wonders
6. DIRT
7. I just can't quit myself
8. Chandelier
9. Baby, don't cry
10. Answer
11. Calling
12. Sweat
13. Special One
14. With Love
[DVD]
1. making-of music videos documentary
– Spinning
– Chandelier
2. Album jacket covers photo shoot documentary
3. I love you (LIVE TOUR 2014 ~ TREE ~ documentary)
4. a-nation 2014 stadium fes. back stage documentary
Regular [CD] (¥3000)


Bigeast Fan Club version [CD] (¥2700)

[CD]
1. Refuse to lose ~ Intro ~
2. Spinning
3. Believe In U
4. SuriSuri (Spellbound)
5. Time Works Wonders
6. DIRT
7. I just can't quit myself
8. Chandelier
9. Baby, don't cry
10. Answer
11. Calling
12. Sweat
13. Special One
14. With Love
15. Christmas is loving (bonus)
16. Refuse to lose ~ Full Version ~  (bonus)
[CD]
1. Refuse to lose ~ Intro ~
2. Spinning
3. Believe In U
4. SuriSuri (Spellbound)
5. Time Works Wonders
6. DIRT
7. I just can't quit myself
8. Chandelier
9. Baby, don't cry
10. Answer
11. Calling
12. Sweat
13. Special One
14. With Love
[CD EXTRA]
1. Time Works Wonders (One Cut Version)