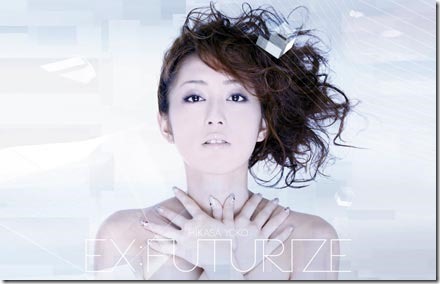 Yoko Hikasa (日笠陽子) is getting ready to release her new single EX:FUTURIZE and has unveiled the jacket covers, full track list, audio preview, and more. Her 4th solo single has tie-up as the opening theme for anime Z/X IGNITION. Single EX:FUTURIZE comes on two editions hitting stores February 12th 2014 – updated details follow.
Voice actress and singer Yoko Hikasa (Mio K-ON!) debuted as a solo artist with single Utsukushiki zankoku na sekai (美しき残酷な世界)(2013.05.08) featured as the first ending theme for popular anime Attack on Titan (Shingeki no Kyojin). Currently she is voicing lead character Jeanne "Kaguya" d'Arc in anime Nobunaga the Fool.
Yoko Hikasa most recently release 3rd single Seek Diamonds with tie-up as the ending theme for current anime Ace of Diamond. Single Seek Diamonds hit stores November 13th 2013 (more details).
Anime Z/X IGNITION is adapted from card game Z/X Zillions of Enemy X (also adapted as PS3 game and manga series). In the future five portals to parallel worlds appear suddenly and strange creatures begin to invade earth. The five portals are gateways to five different timelines. The invading forces battle each other to ensure their timeline is the one that survives. The key (of course) is a card-shaped device.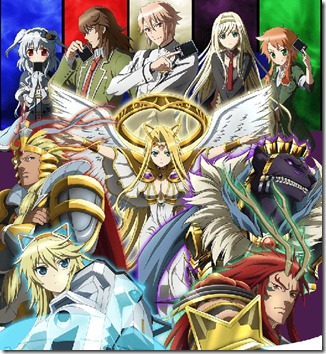 The anime begins airing in Japan January 9th 2014 (more details at official website – link below). Outside of Japan provider Crunchyroll is simulcasting the anime – check our Crunchyroll updates page or hit the link for Z/X IGNITION for episodes and related stories.
The anime's ending theme, Monochrome Overdrive, is the debut solo single from rookie voice actress Yurika Endo  (19). She's also voicing supporting character Aina Mikage in the anime with only her 3rd voice acting credit (more details).
Yoko Hikasa's 4th solo single EX:IGNITION comes on two editions,
– Limited with DVD planned to include music video for title track. Includes 8-page booklet, Z/X IGNITION 'Kamiyugi Ayase' card, plus deluxe sleeve packaging,
– Regular CD-only.
Both editions include an event application flyer for ticket lottery to release event scheduled for March 17th 2014. Plus both include an awards lottery ticket type-OP to be submitted with the ticket type-ED included with single Monochrome Overdrive for awards,
– 5 persons Z/X IGNITION poster signed by Yoko Hikasa and Yurika Endo
– 3 persons EX:FUTUREIZE poster signed by Yoko Hikasa
– 3 persons Monochrome Overdrive poster singed by Yurika Endo
Additionally most stores will add bonus photo (varies by store) with either edition purchased (while supplies last).
Audio preview and anime trailer video follow below.
Yoko Hikasa – EX:FUTURIZE – release date February 12th 2014
Limited [CD+DVD] (¥1800)

Regular [CD] (¥1200)

[CD]
1. EX:FUTURIZE
lyrics: hotaru, composer: Okui Kosuke, arrangement: Nakayama Masato
(preview)

2. Technoholica
lyrics: nadia, composer: Yagi Yuichi, arrangement: Nakayama Masato

3. EX: FUTURIZE (off vocal)
4. Technoholica (off vocal)
[DVD]
1. EX:FUTURIZE (music video

[CD]
1. EX:FUTURIZE
2. Technoholica
3. EX: FUTURIZE (off vocal)
4. Technoholica (off vocal)
Yoko Hikasa Official website (Pony Canyon)