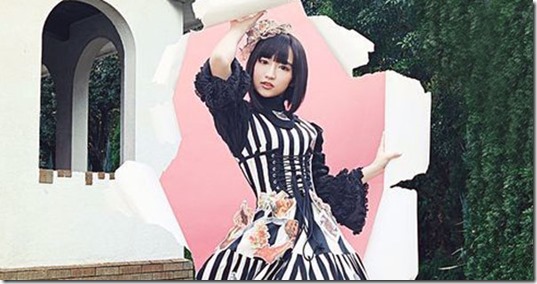 Aoi Yuuki (悠木碧) revealed more details for album Ishmael – jacket covers, full track list, bonuses, and preview music video unveiled. Her 1st album includes singles, coupling tracks, and new songs for 11 total tracks. Album Ishmael comes on two editions releasing February 11th 2015 – all the details and PV follow.
Voice actor and singer Aoi Yuuki released her 1st solo single VisuMania (ビジュメニア) less an one year ago on January 29th 2014. The single has tie-up as the ending theme for anime World Conquest Zvezda Plot. She released 2nd single Cupid de Review (クピドゥレビュー) on April 23rd 2014. This single has tie-up as the opening theme for Kanojo ga Flag wo Oraretara (彼女がフラグをおられたら) plus Aoi Yuuki voices supporting character Ginyuin Serika in the romantic comedy anime.
Aoi Yuuki is also one-half of singing group petit milady with fellow voice actress/singer Ayana Taketatsu. They announced their 4th single Hinoito Rinne no GEMINI (緋ノ糸輪廻ノGEMINI) that just released on January 7th 2015 (more details). The single has tie-up as the opening theme for new anime Seiken Tsukai no World Break (聖剣使いの禁呪詠唱<ワールドブレイク>).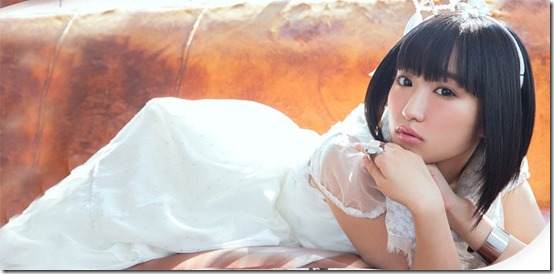 Launch events for album Ishmael are announced – details and participation information flyer included in album,
– March 1st 2015 Tokyo
– March 4th 2015 Tokyo
– March 7th 2015 Osaka
Aoi Yuuki is also preparing for her 1st solo concert event – Yuuki Aoi Concert2015 "Premier!". Fan club and album purchasers getting priority ticket purchase,
– April 19th 2015 5:00pm Maihama Amphitheatre
Album Ishmael comes on two editions. Limited includes visual book expressing the worldview of Aoi Yuuki and deluxe tall packaging. Both editions include flyers for launch event information and priority ticket purchase for one-man live event. Most stores offer purchase bonus on either edition – varies by store – Neowing/CDJapan:KG-size photo, Tower Records:poster, animate:postcard, Gamers:B3-size poster & photo, and more.
Preview music video for new song Earl de Collage La Mirage after the release details
Aoi Yuki – Ishmael – release date February 11th 2015
Limited [CD+DVD] (¥3700)


Regular [CD] (¥3000)


[CD]
1. SWEET HOME
2. Earl de Collage La Mirage
3. VisuMania
4. twinkAtrick
5. Tayutau Kanata
6. Meikyuu Budoukai
7. Rocking Chair Yurete
8. Soramimi PiZZiCATO
9. Dusty! Dusty Stomach
10. Cupid de Review
11. Angelique Sky
[DVD]
1. Earl de Collage la Mirage (music video)
2. making of music video
[CD]
1. SWEET HOME
2. Earl de Collage La Mirage
3. VisuMania
4. twinkAtrick
5. Tayutau Kanata
6. Meikyuu Budoukai
7. Rocking Chair Yurete
8. Soramimi PiZZiCATO
9. Dusty! Dusty Stomach
10. Cupid de Review
11. Angelique Sky
Aoi Yuuki Official website (JVC Music)