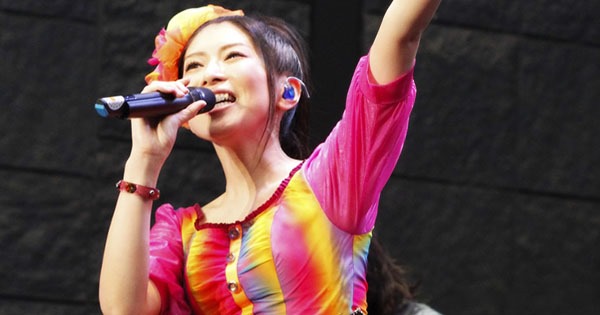 Minori Chihara provides the ending theme Arigato, Daisuki (ありがとう、だいすき) for anime The Disappearance of Nagato Yuki-chan. Plus Minori Chihara renews her roll as lead character Nagato Yuki in the Melancholy of Haruhi Suzumiya franchise's 3rd TV anime series. Her 22nd single Arigato, Daisuki comes on two editions releasing June 24th 2015. Read on for more release details and preview music video.
The anime's lead female voice actors all return – Aya Hirano, Minori Chihara, Goto Yuko, Matsuoka Yuki, and Kuwatani Natsuko – and form unit Kita-ko Bungei-bu Joshi-kai (北高文芸部女子会) to provide the anime's opening theme Fure Fure Mirai (フレ降レミライ ). The single released April 29th 2015 (more details).
Singer and voice actor Minori Chihara (茅原実里) most recently released 21st single Aitakatta Sora (会いたかった空) on April 22nd 2015. The single has tie-up as theme song for anime movie Beyond the Boundary – I'LL BE HERE – Future Chapter (劇場版 境界の彼方 -I'LL BE HERE- 未来篇).
Anime The Disappearance of Nagato Yuki-chan (長門有希ちゃんの消失) is set in the alternate world introduced in the 4th Haruhi Suzumiya light novel (2004) from Tanigawa Nagaru. Its adapted from 2012 spin-off manga series by Puyo and follows Nagato Yuki who in this world isn't an emotionless alien but a shy and somewhat timid girl who develops feelings for fellow literature club member Kyon.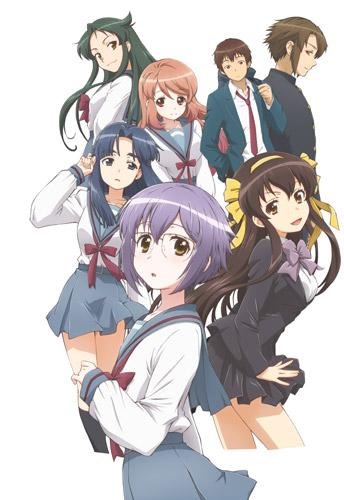 The anime began airing in Japan April 3rd 2015 and for North America provider Funimation.com streams.
Single Arigato, Daisuki comes on two editions (details subject to change). Regular edition has anime themed illustrated jacket cover and bonus song. First Press bonus on both editions – type and availability varies by store (CDJapan, HMV, Tower, Gamers – artist photo; Animate extra jacket cover; Sofmap postcard; Toranoana cloth towel).
Jacket covers and more details coming! Preview music video after the release details.
Minori Chihara – Arigato, Daisuki – release date June 24th 2015
Limited [CD+DVD] (¥1800)


Regular [CD] (¥1200)


[CD]
1. Arigato, Daisuki
lyrics: Hata Aki, composer: rino, arranger: Evan Call

2. Abunai Kurai ni Atsukunare
lyrics: Hata Aki, music: Horie Shota

3. Arigato, Daisuki (off vocal)
4. Abunai Kurai ni Atsukunare (off vocal)
[DVD]
1. Arigato, Daisuki (music video)

[CD]
1. Arigato, Daisuki
2. Abunai Kurai ni Atsukunare
3. Miracle Bang!
lyrics: Matsui Youhei, composer: Toshi Ryu, arranger: Suzuki "Daichi" Hideyuki
Disappearance of Nagato Yuki-chan
Disappearance of Nagato Yuki-chan at Lantis