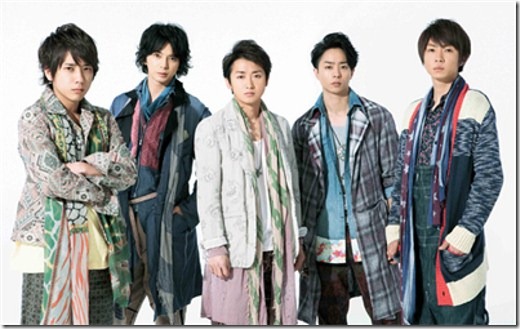 Arashi has revealed the updated release details for their 39th single – "Your Eyes" – the track list and cover jackets are now official. This is the group's 3rd single this year and its set for release on June 6th. The title track is used as the theme song for TV drama series "Mikeneko Holmes no Suiri" that features member Masaki Aiba. Updated release details follow,
Arashi released their 37th single "Wild at Heart" (release details) on March 7th and 38th single "Face Down" on May 9th (release details).
Single "Face Down" easily topped the Oricon charts this past week selling over 520,000 copies in its opening week.
"Your Eyes" comes in two editions:
– Limited with bonus DVD with music video of "Your Eyes" and coupling track that differs from the Regular edition.
– Regular CD-only with bonus coupling tracks – two different from Limited and the off-vocal versions for all 3 tracks.
Arashi – "Your Eyes" – release date June 6th 2012
Limited [CD+DVD] (¥1470)


Regular [CD] (¥1200)


[CD]
1. Your Eyes
2. Kimi ga Iru Kara
3. Kimi ga Iru Kara (off vocal)
[DVD]
1. Your Eyes (music video)
[CD]
1. Your Eyes
2. Hanabi
3. voice
4. Your Eyes (off vocal)
5. Hanabi (off vocal)
6. voice (off vocal)
Arashi Official website (Johnny's Net)