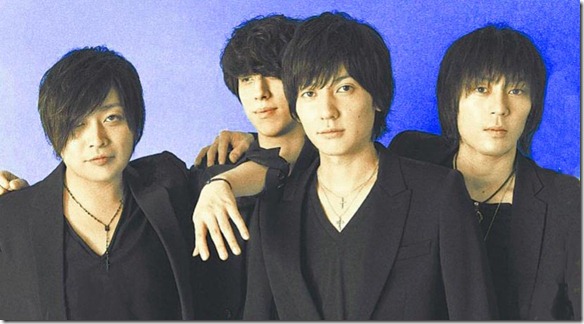 Rock band flumpool has announced a new single which isn't yet titled. The single comes in three editions with coupling tracks of live performances from the band's 2012 5th Tour and coupling song "Kimi wo Tsurete" featured as theme for Fuji TV show Mezamashi Doyobi from April-September. flumpool has also announced a new album, their first in over two years, information will be posted when more details are revealed. The new single is set for release on October 31st – read on for more details…
~ single titled "Answer", updated details here ~
flumpool released their first single of the year "Because…I am" on July 11th and it charted a strong 3rd on the weekly Oricon charts.
The band is nearing the end of their 5th Tour 2012 "Because…I am" that started back in March at Saitama Misato Cultural Hall and will cover 52 performances. The remaining tour stops at the time of this article,
– August 23rd Osaka Oryx Theater
– August 25th Osaka Oryx Theater
– August 26th Osaka Oryx Theater
– August 29th Tochigi Utsunomiya Cultural Hall
– September 4th Saitama Omiya Sonic City Hall
– September 8th Okinawa Kaikan Hall
They will also perform along with ORANGE RANGE at PATi★Night Episode 08 held at Zepp Diver City September 27th.
flumpool's new single is offered in three editions – selected stores will also include a poster at time of order while supplies last,
– Limited A with bonus DVD that includes footage from "Furayon ~Kiseki no Shinkyoku Tanjo Hen~" (60min).
– Limited B with 5 bonus CD-tracks of live performances during their 2012 5th Tour.
– Regular CD-only with same track list as Limited A.
The Limited editions include a code for lottery to special release event for the upcoming album release. The event is scheduled for January 2013.
The single will also include a special flyer about how to attend one of three listening events for the new album,
– November 19th Osaka AKASO (300 people)
– November 20th Nagoya Diamond Hall (300 people)
– November 21st Shibuya O-EAST (400 people)
The single's title track and cover jackets will be announced so come back to Comtrya Sugoi for updates.
flumpool – untitled – release date October 31st 2012
Limited A [CD+DVD] (¥1680)


Limited B [CD] (¥1260)


[CD]
1. untitled title song
2. Kimi wo Tsurete
3. Because…I am (live)
4. title song (off vocal)
5. Kimi wo Tsurete (off vocal)
[DVD]
1. Furayon ~Kiseki no Shinkyoku Tanjo Hen~
[CD]
1. untitled title song
2. Kimi wo Tsurete
3. Because…I am (live)
4. title song (off vocal)
5. Kimi wo Tsurete (off vocal)
6. Boku no Sonzai (live)
7. Present (live)
8. Bega ~Kako to Mirai no Hokkyokusei~ (live)
9. reboot ~Akiramenai Uta~ (live)
10. MW ~Dear Mr. & Ms. Picaresque (live)
Regular [CD] (¥1260)


 
[CD]
1. untitled title song
2. Kimi wo Tsurete
3. Because…I am (live)
4. title song (off vocal)
5. Kimi wo Tsurete (off vocal)
 
flumpool 5th Tour 2012 Official website