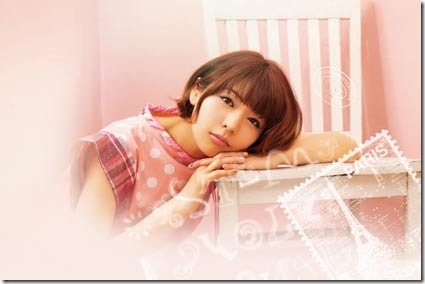 Aki Toyosaki has added more details for her upcoming 9th solo single "CHEEKY". She also revealed more information about the Aki Toyosaki 2nd Live Tour for this fall in conjunction with her just announced her 2nd album. Her new single "CHEEKY" comes on two editions that hit stores August 28th 2013 – read on for more details…
~ updated details ~
Most recently singer and popular voice actress Aki Toyosaki released her 8th single "Flip Flop" (2013.05.22) with the title track featured as the theme song for game show Kizuna-taikan TV Mobile Suit Gundam Dai-07 Itakura Shotai  (more details). Aki Toyosaki and other members of the show's team challenge other TV and anime personalities around Japan on game Mobile Suit Gundam: Senjo no Kizuna.
Aki Toyosaki is also a member of group Sphere which recently released single "GENESIS ARIA" (2013.05.01)(more details) with tie-in as the opening theme for anime TV series Arata Kangatari (Arata: The Legend). Sphere consists of popular voice actresses (seiyuu) Aki Toyosaki, Ayahi Takagaki, Haruka Tomatsu, and Minako Kotobuki.
The Aki Toyosaki 2nd Concert Tour is planned for 5 venues and 7 performances this fall,
– October 20th 2013 5:00pm Tokyo International Forum Hall
– October 27th 5:00pm Kanagawa Prefectural Hall
– November 10th 12:30pm & 4:30pm Grand Cube Osaka
– December 15th 4:30pm Century Hall Nagoya
– December 28th 3:00pm & 6:30pm Tokushima Municipal Cultural Center
More details and ticket information available at special website (link below). Limited details so far on her 2nd album, no title yet but its scheduled for release on September 25th 2013 – more details will be reported.
Her 9th single "CHEEKY" comes on two editions,
– Limited with DVD that includes music video and TVCM spots. Bonuses include application for awards lottery.
– Regular CD-only. First Press version bonuses include deluxe packaging and application for awards lottery.
Selected stores offer a purchase bonus of raw photos (varies) while supplies last. Target stores: Animate, Gamers, Sofmap, Toranoana, Tower Records, HMV, and Sony Music Shop.
Awards lottery application period deadline August 29th (award B), September 2nd (awards A,C)
– (A) 10 persons personal phone talk with Aki Toyosaki
– (B) 400 persons mini-live and talk. Venue somewhere in Tokyo 5:00pm August 31st.
– (C) 50 persons autographed poster.
– (D) all applicants special mobile wait tone.
Jacket covers and other details will be updated when announced
Aki Toyosaki "CHEEKY" – release date August 28th 2013
Limited [CD+DVD] (¥1800)


Regular [CD] (¥1300)


[CD]
1. CHEEKY
lyrics & composer: Ando Yuko, arrangement: Yamamoto Ryuji

2. FANTASY
lyrics & composer: Taniyama Hiroko, arrangement: Ishii AQ

3. CHEEKY (off vocal)
[DVD]
1. CHEEKY (music video)
2. TV spots (30sec,15sec)

[CD]
1. CHEEKY
2. FANTASY
3. CHEEKY (off vocal)
Sphere Official website (Planet Sphere)