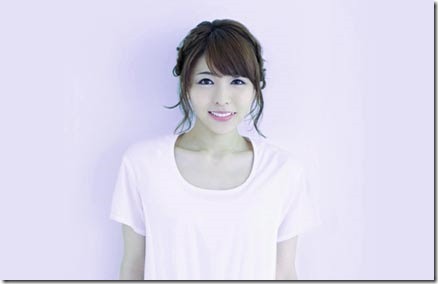 Aki Toyosaki has announced the title for her new album "Love letters". Her 2nd album is planned to include 5 singles released since her first album (2011) – "Flip Flop", "Orion to Supankoru", "Shirotsumekusa", "music", and to be released single "CHEEKY" plus more. Album "Love letters" comes on two editions that hit stores September 25th 2013 – read on for more information…
~ update details ~
Singer and popular voice actress Aki Toyosaki is getting ready to release her 9th single "CHEEKY" – a collaboration with singer-songwriter Yuko Ando and coupling track is provided by singer-songwriter Hiroko Taniyama. Single "CHEEKY" releases August 28th 2013 (more details).
Aki Toyosaki is also a member of group Sphere which released single "GENESIS ARIA" (2013.05.01)(more details) with tie-in as the opening theme for anime TV series Arata Kangatari (Arata: The Legend). Sphere consists of popular voice actresses (seiyuu) Aki Toyosaki, Ayahi Takagaki, Haruka Tomatsu, and Minako Kotobuki.
In connection with her new album Aki Toyosaki has announced her 2nd solo live tour -  the Aki Toyosaki 2nd Concert Tour planned for 5 venues and 7 performances this fall,
– October 20th 2013 5:00pm Tokyo International Forum Hall
– October 27th 5:00pm Kanagawa Prefectural Hall
– November 10th 12:30pm & 4:30pm Grand Cube Osaka
– December 15th 4:30pm Century Hall Nagoya
– December 28th 3:00pm & 6:30pm Tokushima Municipal Cultural Center
More details and ticket information available at special website (link below).
Her 2nd album "Love letters" comes on two editions,
– Limited with DVD. Includes application flyer (undecided awards).
– Regular CD-only. First Press version includes application flyer (undecided awards).
Details are still early, jacket covers, full tracklist, and more will be updated when announced.
Aki Toyosaki "Love letters" – September 25th 2013
Limited [CD+DVD] (¥3500)


Regular [CD] (¥3000)


[CD]
1. Flip Flop (8th)
2. Orion to Supankoru (7th)
3. Shirotsumekusa *6th)
4. music (5th)
5. CHEEKY 9th)
6. – ? undecided
[DVD]
1. undecided
[CD]
1. Flip Flop
2. Orion to Supankoru
3. Shirotsumekusa
4. music
5. CHEEKY
6. – ? undecided
[DVD]
1. undecided
Sphere Official website (Planet Sphere)