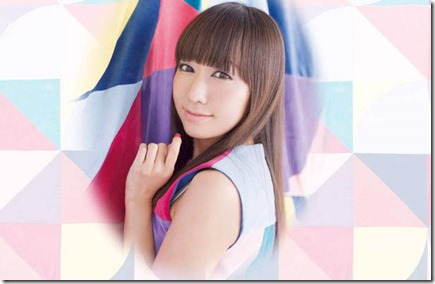 Ayahi Takagaki has announced her 6th single (title updated – "Next Destination") with tie-in as the ending theme for the second season of anime TV series Symphogear. She will also continue to voice character Kris Setsuin for the anime's second season, full title Senki Zessho Symphogear G. Takagaki's 6th single "Next Destination" comes on three editions that will hit stores August 14th 2013 – read on for more details…
~ updated details ~
Ayahi Takagaki contributed the anime's first season ending theme with her 4th single "Meteor Light" that released February 8th 2012.
Most recently the singer and voice actress Ayahi Takagaki released her first album "relation" on April 17th 2013. The album includes her 5 singles, new songs and more for 13 total tracks. Fans showed their support pushing the album to #8 on the weekly Oricon charts. Takagaki also launched her 2nd solo concert mini-tour "Concert Tour 2013 ~ relation of colors ~" that began April 27th at Prefectural Cultural Center, Tochigi. The tour had 4 planned performances but all sold-out and a 5th performance was added for June 1st 2013 5:30pm at Maihama Amphitheater!
Ayahi Takagaki, in addition to her solo releases and voice acting work in anime, is part of the successful seiyuu-singing group Sphere. Along with Aki Toyosaki, Minako Kotobuki, and Haruka Tomatsu the four recently released their 12th single "GENESIS ARIA" (2013.05.01) that's featured as the opening theme for anime Arata The Legend.
Anime Symphogear is an original story created by Akifumi Kaneko in collaboration with composer Noriyasu Agematsu of Elements Garden. The anime is set in an alternate future with idols who battle aliens called the Noise with musically charged armor known as Symphogear. The first season was packed with musical-magical girl mech action with lots of insert songs for the cast (Nana Mizuki, Ayahi Takagaki, and Aoi Yuki). Expect more of the same for season two.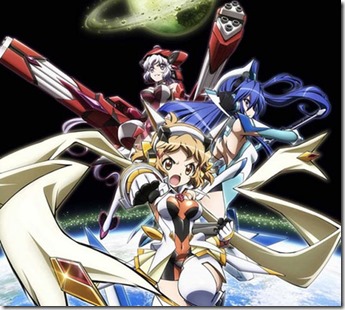 The anime is produced by studio Satelight and distributed by Aniplex. A special screening is planned for June 24th 2013 at Milano 1 Shinjuku, Tokyo for 1000 fans selected by lottery. They'll get to watch the first episode and hear from the staff including Nana Mizuki and Ayahi Takagaki. More details at the official website (link below). Regular broadcast is set for July 7th 2013 on Tokyo MX in Japan – no information if it will be available outside of Japan but season one was handled by Niconico/Funimation.
Takagaki's 6th single "Next Destination" comes on three editions (detail subject to change),
– Limited with DVD that's planned to include music video and making-of footage for title track. Includes deluxe packaging and application card (no details).
– Limited Pressing anime themed with illustrated jacket cover. First Press adds application card (no details yet).
– Regular CD-only. First Press adds special packaging and application card.
Title, track list, and jacket covers will be updated when announced.
Ayahi Takagaki "Next Destination" – release date August 14th 2013
Limited [CD+DVD] (¥1800)


Limited Pressing [CD] (¥1300)


[CD]
1. title song (undecided)
2. undecided
3. undecided
[DVD]
1. title song (music video)
[CD]
1. title song (undecided)
2. undecided
3. undecided
4. title song (TV-size)
Regular [CD] (¥1300)


 
[CD]
1. title song (undecided)
2. undecided
3. undecided
 
Symphogear G episode 1 Special screening June 24th ticket lottery
Sphere Official website (Planet Sphere)