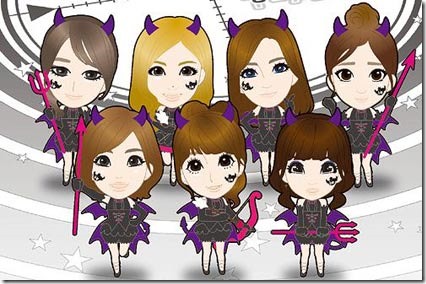 T-ARA recently updated the release information for their new Japanese single "Target" – illustrated jacket covers revealed along with news of a third edition and release date pushed back a week. Single "Target" is their 7th Japanese single and now comes on three editions that hit stores July 10th 2013. Updated details and audio preview follow…
~ PV revealed ~
The group also just released Japanese single "Kaze no Yoni" from sub-unit QBS comprised of members Qri, Boram, and Soyeon. The sub-unit's debut single hit stores June 26th 2013.
Most recently T-ARA released their 6th Japanese single "Bunny Style!" (バニスタ!) on March 20th 2013. Fans showed their support and pushed the single to #2 on the Oricon weekly charts. More details on the single and preview music video available here.
T-ARA has also announced more details for their 2nd Japanese album now titled "TREASURE BOX" (more details) and 2nd major tour of Japan re-titled in support of the new album, "T-ARA JAPAN TOUR 2013 ~TREASURE BOX ~" that hits 5 venues with 9 performances. More details at their website (link below),
– Sept 4th & 5th Sun Palace Hall, Fukuoka
– Sept 7th & 8th Kobe World Hall, Kobe
– Sept 10th & 11th Nitori Cultural Hall, Sapporo
– Sept 15th Congress Center Century Hall, Nagoya
– Sept 26th & 27th Nippon Budokan, Tokyo
The new album "TREASURE BOX" has tentative release date of July 31st but isn't yet available for pre-order so that date may be pushed back. More details will be added in a separate report.
Their 7th Japanese single "Target" comes on three editions,
– Limited with DVD that includes music video for title track. Deluxe packaging and trading card ( 1 of 8 ).
– Regular A & B CD-only. Includes trading card ( 1 of 8 ). A & B versions have different jacket covers.
Selected stores will offer a bonus sticker while supplies last on all three editions. The single is also planned to include a lottery application for priority tickets "T-ARA JAPAN TOUR 2013 ~TREASURE BOX ~".
T-ARA "Target" – release date July 3rd 10th 2013
Limited [CD+DVD] (¥1500)


Regular A [CD] (¥735)


[CD]
1. Target
(preview)
2. Target (off vocal)
[DVD]
1. Target (music video)
[CD]
1. Target
2. Target (off vocal)
Regular B [CD] (¥735)


 
[CD]
1. Target
2. Target (off vocal)
 
T-ARA Official website (Korea)