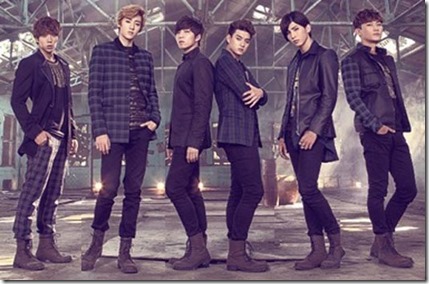 U-KISS is preparing to release their new Japanese single Fall in Love / Shape of Your Heart. The double a-side single is their 7th Japanese single and first in nearly a year since ALONE (2013.02.13). Its also the first since member DongHo announced he would leave the group on October 16th 2013 due to personal and health reasons. New Japanese single Fall in Love / Shape of Your Heart comes on four editions that hit stores December 18th 2013. Read on for more release details and audio previews.
Korean vocal group U-KISS most recently released their 2nd original Japanese album Inside of Me on July 24th 2013. The album includes 4 Japanese singles Dear My Friend, One of You, Distance…, ALONE, plus new songs including title track Inside of Me for 13 total songs. The album was their first Japanese release with new member AJ who participates on new songs and several new recordings of the singles. Fans showed good support pushing the album up to #8 on the weekly Oricon charts.
In Korea U-KISS recently released their 4th mini-album Moments on October 31st 2013.
U-KISS will hold a release and handshake event for the new Japanese single on December 21st (Tokyo). The Limited A & B editions both include an event participation ticket (one type A or two type B are required).
Single Fall in Love / Shape of Your Heart comes on 4 editions,
– Limited A with DVD that includes music video and making-of footage for Fall in Love. Includes event participation ticket A.
– Limited B CD-only with two bonus live tracks captured during their U-KISS JAPAN LIVE TOUR 2013 ~ Inside of Me ~ August 26th 2013 at Zepp Tokyo. Includes event participation ticket B.
– Limited C CD-only mu-mo online shop and event venue exclusive.
– PlayButton mp3 player (4 songs).
U-KISS – Fall in Love / Shape of Your Heart – release date December 18th 2013
Limited A [CD+DVD] (¥1890)


Limited B [CD] (¥1050)


[CD]
1. Fall in Love
(preview)
2. Shape of Your Heart
(preview)
3. Fall in Love (off vocal)
4. Shape of Your Heart (off vocal)
[DVD]
1. Fall in Love (music video)
2. Fall in Love (off shoot, making-of)
[CD]
1. Fall in Love
2. Shape of Your Heart
3. ALONE (live Tour 2013.8.26 Zepp Tokyo)
4. Inside of Me (live Tour 2013.8.26 Zepp Tokyo)
5. Fall in Love (off vocal)
6. Shape of Your Heart (off vocal)
Limited C mu-mo shop & event venue [CD]  (¥1050)

PlayButton (mp3 player) (¥2400)

[CD]
1. Fall in Love
2. Shape of Your Heart
3. Fall in Love (off vocal)
4. Shape of Your Heart (off vocal)
[CD]
1. Fall in Love
2. Shape of Your Heart
3. Fall in Love (off vocal)
4. Shape of Your Heart (off vocal)
U-KISS Official website (Japan)