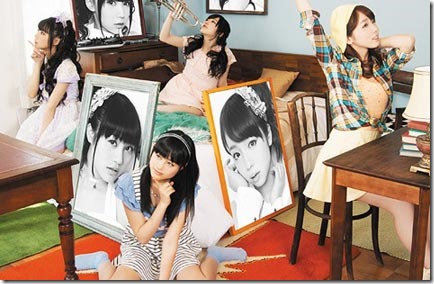 StylipS upcoming 6th single Junsui na Fujunbutsu (純粋なフジュンブツ) has unveiled the jacket covers, full track list, and preview music video. The title track is featured as the opening theme and coupling track Spica. as the ending theme for anime The Comic Artist and His Assistants (Mangaka-san to Assistant-san to). Plus the anime features members Noto Arisa and Ito Miku voicing key characters. Single Junsui na Fujunbutsu hits stores May 21st 2014 – updated details and PV follow.
Idol group StylipS most recently released 5th single NOVA Revolution on February 26th 2014 (more details). The single has tie-up as the second theme song for short anime Donyatsu. Previously StylipS released their 4th single Prism Sympathy (2013.07.24) with tie-in as ending theme for anime Fate/kaleid liner Prisma☆Illya.
Anime The Comic Artist and His Assistants (マンガ家さんとアシスタントさんと) is adapted from manga by Hiroyuki. The manga began in 2008 and ended in 2013 but was restarted in August 2013 as Mangaka-san to Assistant-san to 2. The story follows mangaka Aito Yuuki who constantly needs to consult with his assistants lead by Ashisu Sahoto due to his lack of basic understanding. Ashisu tolerates a wide range of requests for 'better understanding' from her boss.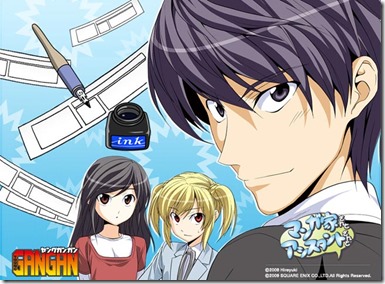 The anime features StylipS members Noto Arisa as Otosuna Mihari and Ito Miku as Ashisu Sahono. It began airing April 7th 2014 in Japan and streamed on provider Crunchyroll. Check our Crunchyroll updates page or hit the link for The Comic Artist and His Assistants for episodes and related stories.
Single Junsui na Fujunbutsu comes on two editions. The Limited includes additional coupling tracks and the anime themed Regular edition includes a release event ticket at selected stores,
– May 31st 2014 1:00pm Toranoana Akihabara (Toranonana stores)
– June 1st 2014 1:00pm Animate Nihobashi Osaka (Animate stores)
– June 1st 2014 5:00pm Gamers Namba Osaka (Gamers stores)
Preview music video and slapstick drama episode 1 follow below the release details
StylipS – Junsui na Fujunbutsu (純粋なフジュンブツ) – release date May 21st 2014
Limited [CD+DVD] (¥2000)

Regular [CD] (¥1200)

[CD]
1. Junsui na Fujunbutsu
lyrics: Hata Aki, music: Takada Akira

2. All you need is DANCE
lyrics: Matsui Yohei, composer: Seki Nomotoki, arrangement: Yajima Toshi

3. Jellybeans Diary (Like Cover Girl)
lyrics: Matsui Yohei, music: Ito Tsubasa

4. Spica.
lyrics: Tsujijun Sara, music: Okuda Moto

5. Junsui na Fujunbutsu (off vocal)
6. All you need is DANCE (off vocal)
7. Jellybeans Diary (Like Cover Girl) (off vocal)
8. Spica.  (off vocal)
[DVD]
1. Junsui na Fujunbutsu (music video)
2. Junsui na Fujunbutsu (dance ver.)
3. making-of music video footage
4. CM Style
– ARISA
– MAHO
– MIKU
– MOE
– StylipS

[CD]
1. Junsui na Fujunbutsu
2. Spica.
3. Junsui na Fujunbutsu (off vocal)
4. Spica. (off vocal)
Mangaka-san to Assistant-san to official website (manga)