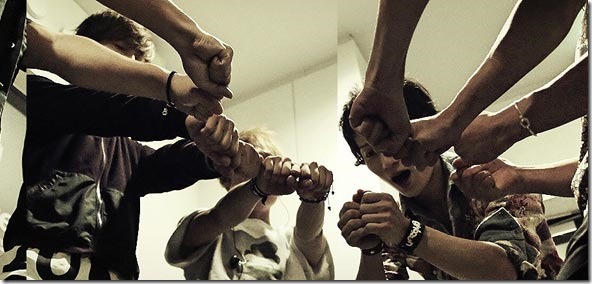 UVERworld announced their 8th album – untitled – set for release on July 2nd 2014. The album is planned for two editions with the Limited's DVD containing 50 minutes of previously unreleased live performance footage and 100 minutes of documentary footage. Read on for more early details and pre-order…
~ updated details – Ø CHOIR~
UVERworld is getting ready to release single 7 Kame no Ketsui (7日目の決意, Nanokame no Ketsui) that was featured during their UVERworld ARENA LIVE 2013 winter. Its their 26th single and hits stores June 18th 2014 (more details).
Planned to be included on their new album are singles,
– Nano Second (ナノ・セカンド) (2013.12.19)
– Fight For Liberty / Wizard CLUB (2013.08.14) with track Fight For Liberty having tie-in as OP2 for the TV broadcast of anime OVA series Space Battleship Yamato 2199
– REVERSI (2012.12.26) featured as the theme for anime movie Blue Exorcist.
Earlier this year on March 27th 2014 the band announced a 6th member – SEIKA – who was an original member of the pre-UVERworld formation Sound Goku Road (Sangoku Road) and has performed with the band during live events as a support member.
Details on UVERworld's 8th album are still early and subject to change. Title, jacket covers, and more coming – follow Comtrya Sugoi for updates.
UVERworld – 8th album (untitled) – release date July 2nd 2014
Limited [CD+DVD] (¥3700)


Regular [CD] (¥3000)


[CD]
1. REVERSI
2. Fight For Liberty
3. Wizard CLUB
4. Nano Second
5. 7 Kame no Ketsu
6. – ? undecided
[DVD]
1. Live performance digest (50min)
2. Documentary footage (100min)
3. core ability3 (more previews)
[CD]
1. REVERSI
2. Fight For Liberty
3. Wizard CLUB
4. Nano Second
5. 7 Kame no Ketsu
6. – ? undecided