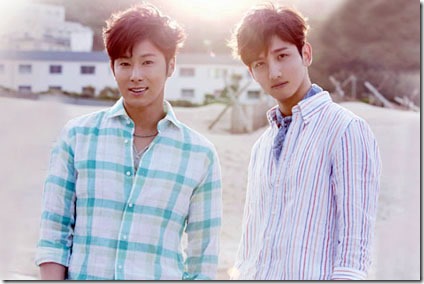 Tohoshinki (TVXQ) has announced their 3rd Japanese single of 2013 "SCREAM" with tie-in as theme song for live-action movie Sadako 3D2. The title song is described as a fierce dance number with a heavy sound, the most aggressive TVXQ song ever. New single "SCREAM" comes on two editions that are scheduled for release on September 4th 2013 – read on for more details and trailer for Sadako 3D2 with audio preview of theme song "SCREAM"…..
~ updated details, PV revealed ~
Tohoshinki most recently released Japanese single "OCEAN" (2013.06.12) that fans pushed up to #2 on the Oricon weekly charts (140,000 sold). The popular Korean duo earlier this year released their newest Japanese and #1 charting album "TIME" (2013.03.06).
New Japanese horror movie Sadako 3D2 is the sequel to Sadako 3D (2012.05) based on Koji Suzuki's (Ring, Dark Water) 2012 novel "S". The movie stars former SweetS (2003-2006) idol Takimoto Miori (21) in her first leading roll and first movie's director Tsutomu Hanabusa directs the sequel. Movie Sadako3D2 opens in theaters across Japan August 30th 2013. More details at official website (linked below).
Tohoshinki has nearly finished up their major dome stadium tour in Japan "Tohoshinki LIVE TOUR 2013 ~ TIME ~" with 16 performances at 6 major dome venues in Sapporo, Tokyo, Nagoya, Osaka, and Fukuoka. Remaining are the final 2 performances at the open-air 72,000+ seat International "Nissan" Stadium in Yokohama,
– April 27th, 28th, 29th at Saitama Super Arena
– May 5th Sapporo Dome
– May 10th, 11th, 12th Nagoya Dome
– May 25th, 26th Yahoo Auctions Dome, Fukuoka
– June 5th, 6th, 8th, 9th Kyocera Dome, Osaka
– June 15th, 16th, 17th Tokyo Dome (2hr digest show broadcast on Fuji TV NEXT August 31st 2013)
– August 17th, 18th  Nissan Stadium, Yokohama
More details at special tour website (link at bottom).
Single "SCREAM" is planned for two editions,
– Limited with DVD that includes music video and First Press version adds bonus making-of footage. First Press also includes bonus jacket-sized card (1 of 6).
– Regular CD-only with bonus track (planned). First Press version planned to include additional contents on CD-EXTRA format, jacket-sized card (1 of 6), and 12-page booklet.
Jacket covers and more will be updated when announced. Watch the trailer for Sadako 3D2 with preview of theme song "SCREAM" (at 1:00) below the release details.
Tohoshinki (TVXQ) "SCREAM" – release date September 4th 2013
Limited [CD+DVD] (¥1890)


Regular [CD] (¥1050)


[CD]
1. SCREAM
2. Disvelocity
3. SCREAM (off vocal)
4. Disvelocity (off vocal)
[DVD]
1. SCREAM (music video)
2. SCREAM (off shoot)
[CD]
1. SCREAM
2. Disvelocity
3. SCREAM ~Remix~
4. SCREAM (off vocal)
5. Disvelocity (off vocal)
Tohoshinki Official website (Japanese)
Tohoshinki "TIME" Live Tour 2013 website