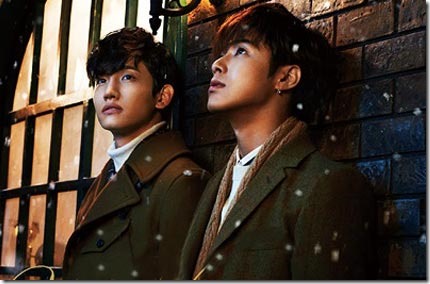 Tohoshinki (TVXQ) updated the release details for their new Japanese single Very Merry Xmas – jacket covers and PV music video revealed. The winter themed single is the popular Korean duo's 4th of 2013. Also revealed the title track is featured as the November POWER PLAY on NTV's Music Dragon and coupling track White gets tie-in as the opening theme for NTV Music Dragon in December. Single Very Merry Xmas comes on two editions scheduled to hit stores November 27th 2013 – updated details and preview music video follow.
Tohoshinki most recently released single SCREAM on September 4th 2013 (more details). The single is featured as theme song for live-action movie Sadako 3D2. Fans showed usual strong support with over 134,000 copies sold opening week which was enough to push the single to #2 on the weekly Oricon charts.
Tohoshinki released Japanese single OCEAN on June 12th 2013 and fans also pushed it up to #2 on the Oricon weekly charts. In addition to the single releases earlier this year they released their newest Japanese album TIME (2013.03.06) which topped the weekly Oricon album charts.
Tohoshinki's new Japanese single Very Merry Xmas comes on two editions,
– Limited with DVD that includes music video and making-of footage for title track. Includes jacket sized card (1 of 6).
– Regular CD-only with bonus remix track on CD-EXTRA format. First Press version adds jacket sized card (1 of 6) and deluxe 12-page booklet.
Watch the preview music video for Very Merry Xmas below the release details.
Tohoshinki – Very Merry Xmas – release date November 27th 2013
Limited [CD+DVD] (¥1890)

Regular [CD] (¥1050)

[CD]
1. Very Merry Xmas
2. White
3. Very Merry Xmas (off vocal)
4. White (off vocal)
[DVD]
1. Very Merry Xmas (music video)
2. Very Merry Xmas (off shoot)
[CD]
1. Very Merry Xmas
2. White
3. Very Merry Xmas – Remix
4. Very Merry Xmas (off vocal)
5. White (off vocal)