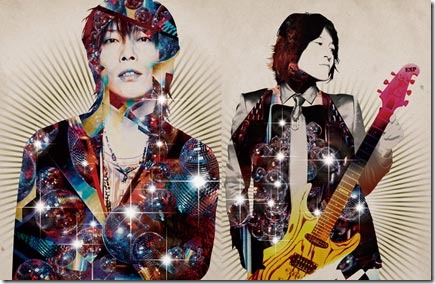 GRANRODEO has announced new single Hengenjizai no Magical Star with tie-up as the next opening theme for anime Kuroko's Basketball season 2 (Kuroko no Basuke). Its their 21st single and 4th single featured as an opening theme for the anime. Single Hengenjizai no Magical Star comes on three editions scheduled for release on February 12th 2014 – more details follow….
~ updated details, PV unveiled ~
GRANRODEO's new single continues their connection with anime Kuroko's Basketball. Their 20th single The Other self (2013.10.16) is featured as the current opening theme (more details). Fans showed good support for their most recent single pushing it to #10 on the weekly Oricon charts. Previously their 16th single Can Do (2012.04.18) and 17th single RIMFIRE (2012.07.18) were featured as the anime's first season opening themes.
Rock group GRANRODEO consists of singer/voice actor KISHOW (Taniyama Kisho) and guitarist e-ZUKA (Iizuka Masaaki). Most all of their single releases have tie-ins with anime or games.
The anime Kuroko's Basketball (Kuroko no Basuke) is adapted from manga by Tadatoshi Fujimaki and centers around Kuroko Tetsuya who was part of a legendary Generation of Miracles middle school basketball team. He was the invisible 6th man on that team that no one seems to be able to remember. Now he is now a first year at Serin High School and chooses to become the shadow for fellow first year Kagami Taiga (who spent his middle school in America) to help fulfill Kagami's goal of becoming the best basketball player in Japan. Their team from Serin battles other teams including the 5 teams who each have one of the Generation of Miracles.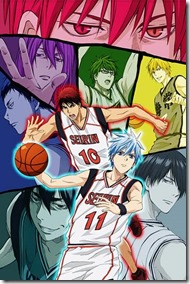 The first season of Kuroko's Basketball aired 24 episodes from April – September 2012 and season two started airing in Japan in October 2013 on MBS TV and Tokyo MX. Season one as well as the new episodes for season two are simulcast outside of Japan on provider Crunchyroll. Check our updates page for Crunchyroll or hit the link for  Kuroko's Basketball episodes and related stories.
Single Hengenjizai no Magical Star comes on three editions each planned to include 3 tracks plus karaoke versions (details subject to change),
– Limited with DVD that includes music video for title track.
– Anime themed CD-only with illustrated jacket cover.
– Regular CD-only.
Full track list, jacket covers, and more details will be announced, come back to Comtrya Sugoi for updates. Watch the preview music video for their 20th single and first opening theme The Other self and preview trailer for season 2 of Kuroko's Basketball below the release details.
GRANRODEO – Hengenjizai no Magical Star – release date February 12th 2014
Limited [CD+DVD] (¥1800)

Anime [CD] (¥1300)

[CD]
1. Hengenjizai no Magical Star
2. undecided
3. undecided
4. Hengenjizai no Magical Star (off vocal)
5. undecided (off vocal)
6. undecided (off vocal)
[DVD]
1. Hengenjizai no Magical Star (music video)
[CD]
1. Hengenjizai no Magical Star
2. undecided
3. undecided
4. Hengenjizai no Magical Star (off vocal)
5. undecided (off vocal)
6. undecided (off vocal)
Regular [CD] (¥1300)

 
[CD]
1. Hengenjizai no Magical Star
2. undecided
3. undecided
4. Hengenjizai no Magical Star (off vocal)
5. undecided (off vocal)
6. undecided (off vocal)